[ United States Philippine Mint State Pesos ]
United States Philippines One Peso, Circulation Strikes (1903-1936)

The Greatest Collection of United States
Philippine Mint State Pesos Ever Offered!
LIST PRICE: $270,440.00
BREAKDOWN OF THE (16) COINS INCLUDED IN THIS COLLECTION:
DATE
DESCRIPTION
CERTIFICATION
GRADE
PCGS

_

#
1903
Peso
PCGS
MS64
90381
1903-S
Peso
PCGS
MS66
90382
1904
Peso
PCGS
MS67
90383
1904-S
Peso
PCGS
MS64
90384
1905-S
Peso (Curved Serif)
PCGS
MS64
90385
1905-S
Peso (Straight Serif)
PCGS
MS63
90387
1906-S
Peso
PCGS
MS61
90386
1907-S
Peso
PCGS
MS67
90393
1908-S
Peso
PCGS
MS64+
90394
1909-S
Peso
PCGS
MS66+
90395
1910-S
Peso
PCGS
MS66+
90396
1911-S
Peso
PCGS
MS66+
90397
1912-S
Peso
PCGS
MS64
90398
1936-M
Peso (Murphy-Quezon)
PCGS
MS67+
90411
1936-M
Peso (Roosevelt-Quezon)
PCGS
MS67
90410
1920
Gold Wilson Medal (X#11b)
PCGS
AU55
510535

(Photographed Coins from this Set)

[Click Photos to Enlarge]
Below are some words about the coins offered here and the United States Philippine (USPI) Mint State Peso series as a whole from the owner of this collection, Dan Rosenthal ("JustHavingFun") -- one of the greatest minds in the field of USPI coinage, and the single greatest USPI collector of all time...

The Best Mint State United States
Philippine Peso set ever offered!
This super-rare set has exploded up in value. I believe the coins in this series are still so undervalued, a coin rarer than the 1894-S dime catalogues at PCGS for just $30,000.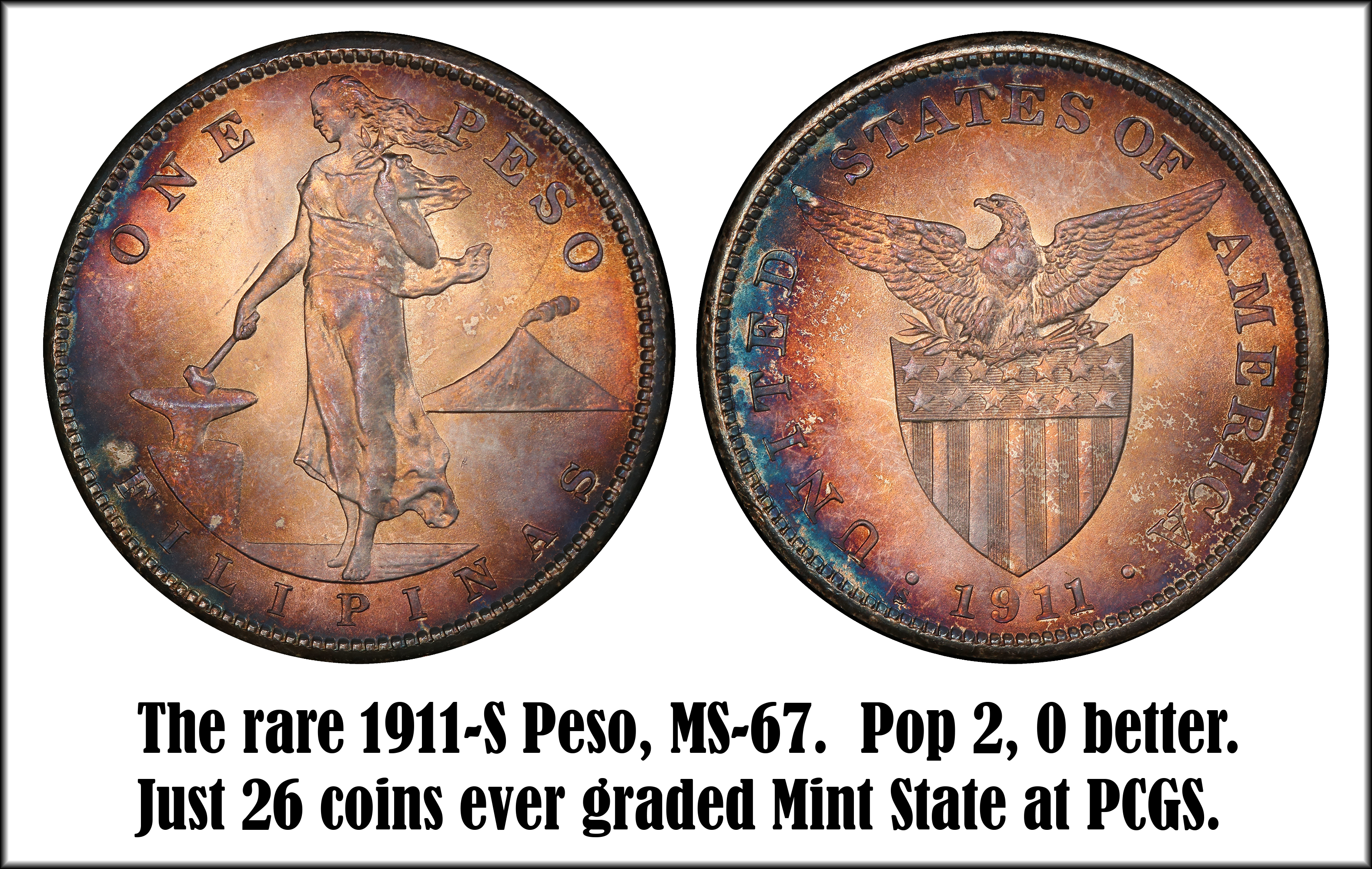 Similar potential undervaluations run throughout the series, which is beginning to gain wide-spread acceptance as a United States coin series, with the added value that commands.

This series outperformed the Dow by about 3 to 1 during the strongest bull market in the stock market's history. It also outperformed silver, gold, and bonds by a wide margin.
Dear Collector: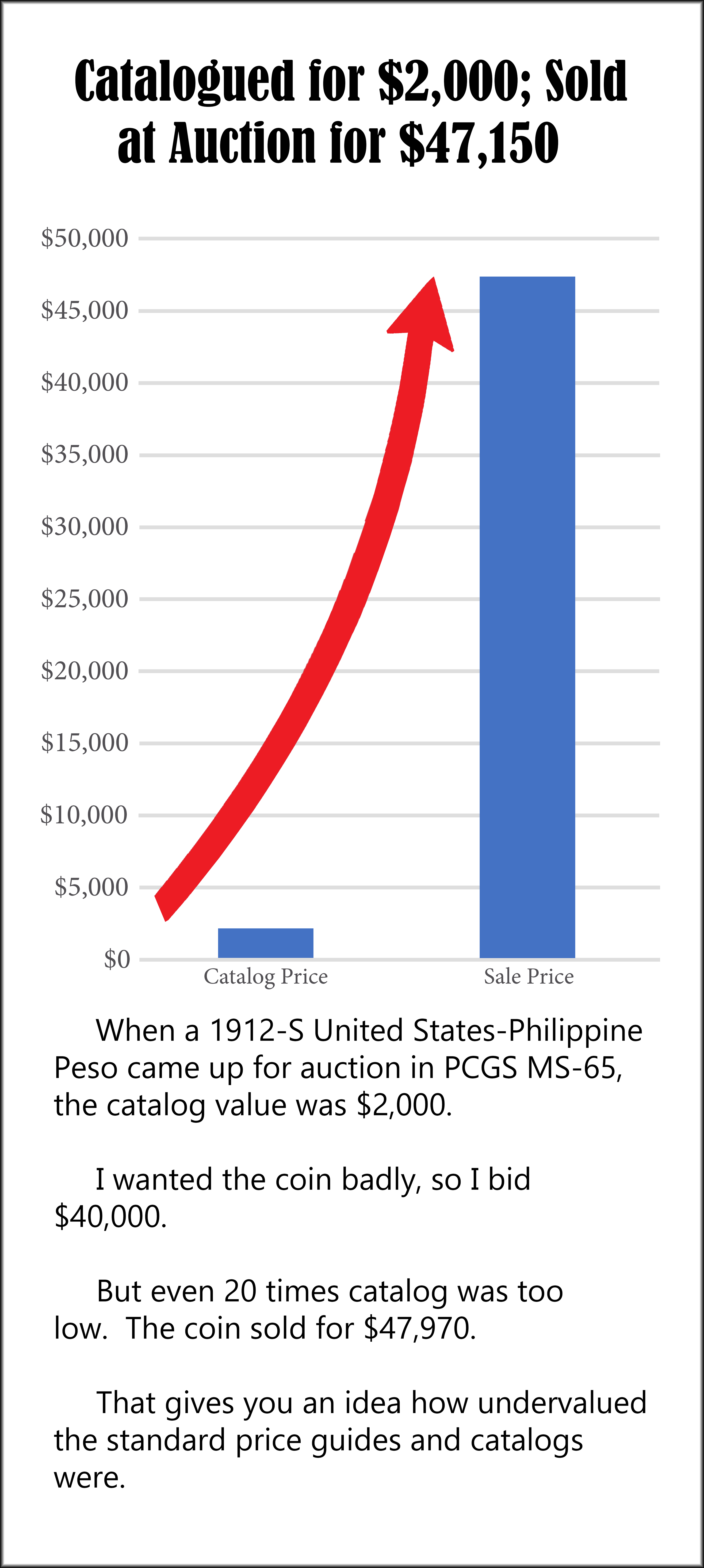 Between 1903 and 1945, the U.S. Mint issued a unique series of bi-national coins; Philippine on the obverse; U.S. on the reverse.

These coins languished in obscurity until the turn of century, when they began gaining recognition as United States coins. The Red Book began increasing its coverage from nothing, to two pages to five, ten, and today, 26 pages. Then the U.S. Commemorative Society recognized the U.S. Philippine (US-PI) commems as U.S. Commemoratives.

Ditto for Coin World and Numismatic News. The auction houses like Stacks and Heritage are beginning to list them under U.S. coins.

And perhaps most important of all, PCGS and NGC now recognize them as U.S. coins.

So the collector base for these coins has grown from a few thousand to large multiples of that number, and appears to be rising sharply.

These coins are amazingly rare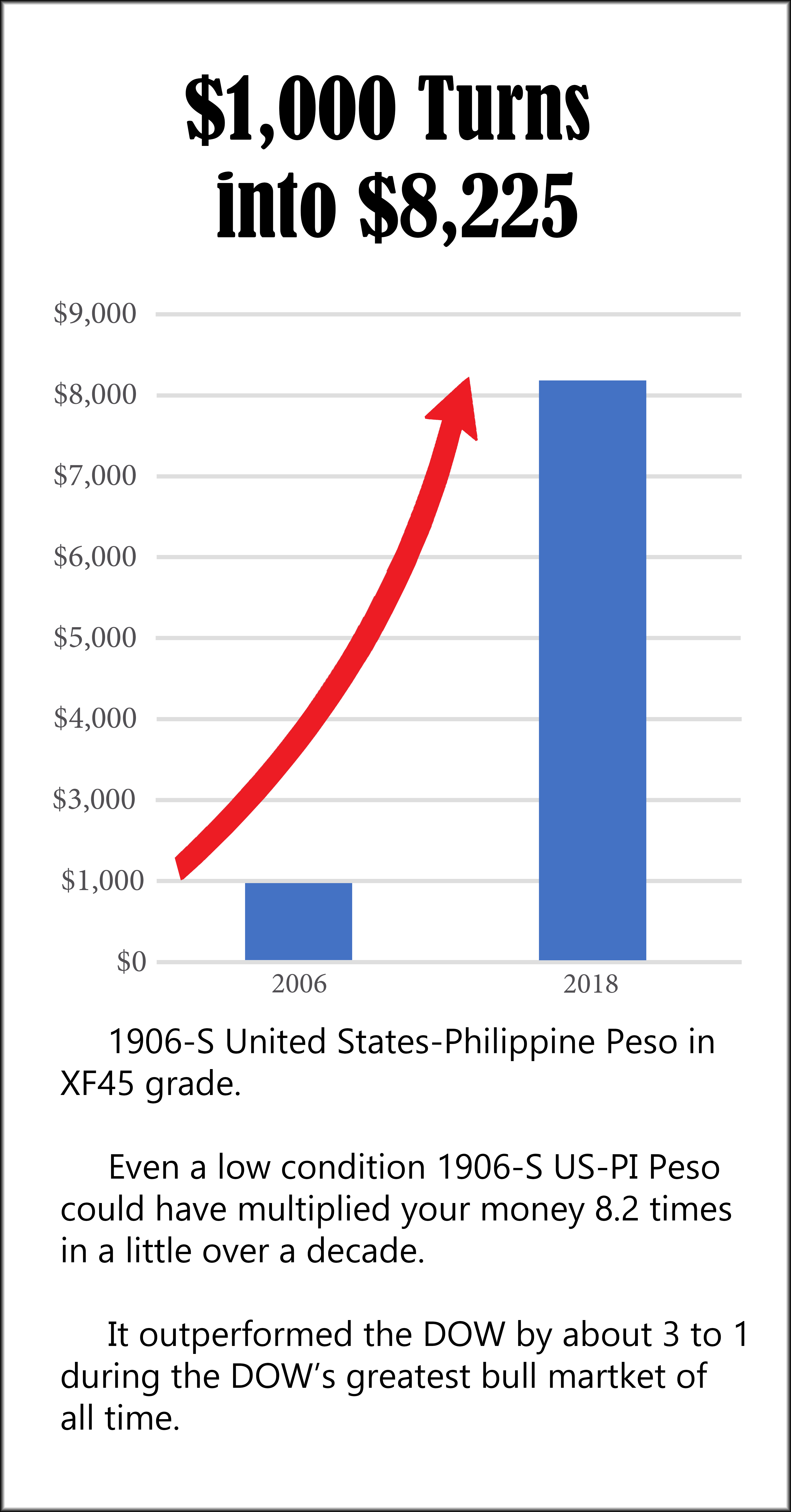 PCGS has graded only 898 United States-Philippine Pesos in MS-63 or better.

To put that in perspective, PCGS has graded 2,349 RED 1909-S VDB pennies in MS-63 RED or better.

In other words, the famous, rare 1909-S VDB penny is close to three times as common as all the dates for all the United States-Philippine Pesos COMBINED in MS-63.

These United States-Philippine coins are so rare because the humid Philippine weather corroded most of the already small mintages.

Then, when Japan invaded the Philippines during WWII, the U.S. dumped millions of coins into Caballo Bay to keep them out of the hands of the Japanese. Since then, numerous typhoons, hurricanes, and two nasty civil wars have further destroyed many collectible coins.

But perhaps most damaging of all was the desire of the Filipinos for nice, shiny coins. That resulted in the majority of many dates being cleaned, often harshly, making them uncollectible.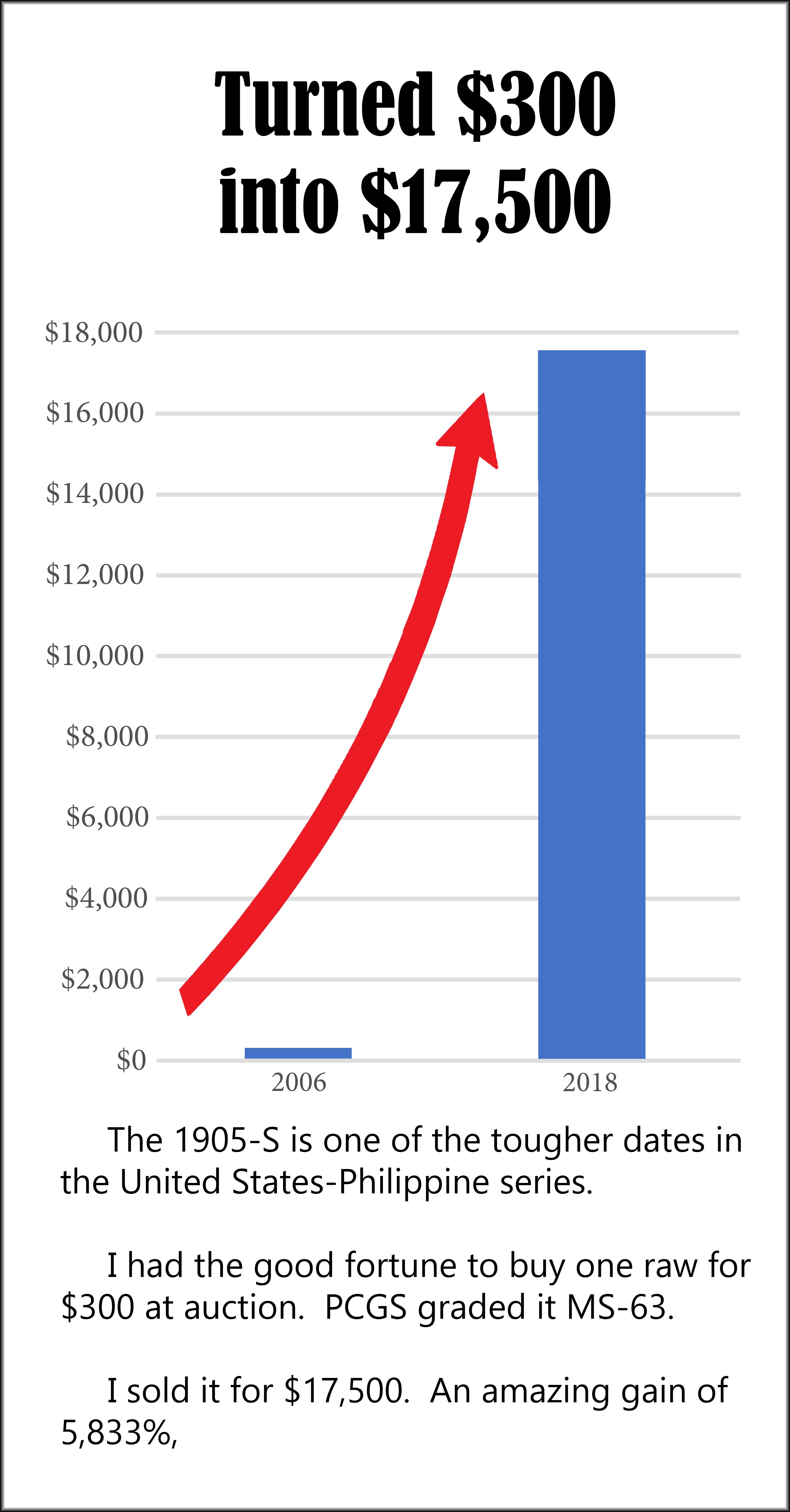 The end result is that several dates have no coins graded better than MS-63 to 65. And the coins in Gem MS-66 or better are stunningly rare. Only 117 coins in the entire series have been given such lofty grades.

Just a scant 36 of these are in the heart of the series dated before 1913.

I collected these coins for many years before I found my first MS-67, a 1907-S. A dealer bought it for about $1,000 and flipped it to me for $3,000.

That was many years ago. I now estimate the 1907-S in MS-67 is worth about $21,000.

This set, the best ever offered publicly, contains great specimens of the two rarest coins in the series. The famous Gold Wilson, which sold at auction in 2013 for $44,000 in PCGS AU-55. Only five were minted; two are damaged; and only one is known to be in better condition.

It also contains the equally famous 1906-S United States Philippine Peso. The condition is MS-61, one of only eight ever graded by PCGS in mint state.

The set contains eight super Gems: one MS-66; three MS-66+; three MS-67's; and one MS-67+ -- the top grade ever received by any coin in the series.

The set is the finest set of Pesos ever offered publicly. It far outstrips the Eliasberg Collection of United States-Philippine Pesos.


Save up to $67,610 by buying this set intact
I'm Dan Rosenthal, the owner of this set. I'm 77 years old and would love to pass it on to one of my kids. But they're not interested. So I'm forced to sell.

It's obvious that I cannot possibly guarantee that this set will perform as well in the future as it did for me in the past.

If you buy it, you may lose money, you may do as well as I did, or you may do better.

In pricing the set, I used MonsterCoinMart's retail price guide. They specialize in United States-Philippine coins, and probably sell more than any other two dealers combined. Their price guide is the most reliable I know of.

Their prices value the set at $338,050. But I spent two decades building this set, and I would like to see it kept intact.

So if you buy the entire set, I will reduce the price by 20% to $270,440. You save $67,610.

Contact Justin Spivack at www.monstercoinmart.com. Email him at justin@monstercoinmart.com, or phone him at (949)-310-3046.


Yours sincerely,

Dan Rosenthal
US-PI Fanatic
How do I Contact MonsterCoinMart?
Have a question about ordering a product? Interested in consigning us your coins? Be sure to Contact Us! Our experienced and customer-oriented team will be happy to assist you in whatever way we can!
Check out our store on eBay and some of our customer feedback. We offer even more products here on monstercoinmart.com, and at even more competitive prices, so be sure to check out our "Coins For Sale" and "Featured Items" sections!
Click the link below to review our "Terms and Conditions" page. This page contains a wealth lot of information important if you plan on ordering a product from us! Be sure to give it a look over before making your purchase!