1942/1 MERCURY DIME
(PCGS-MS67+)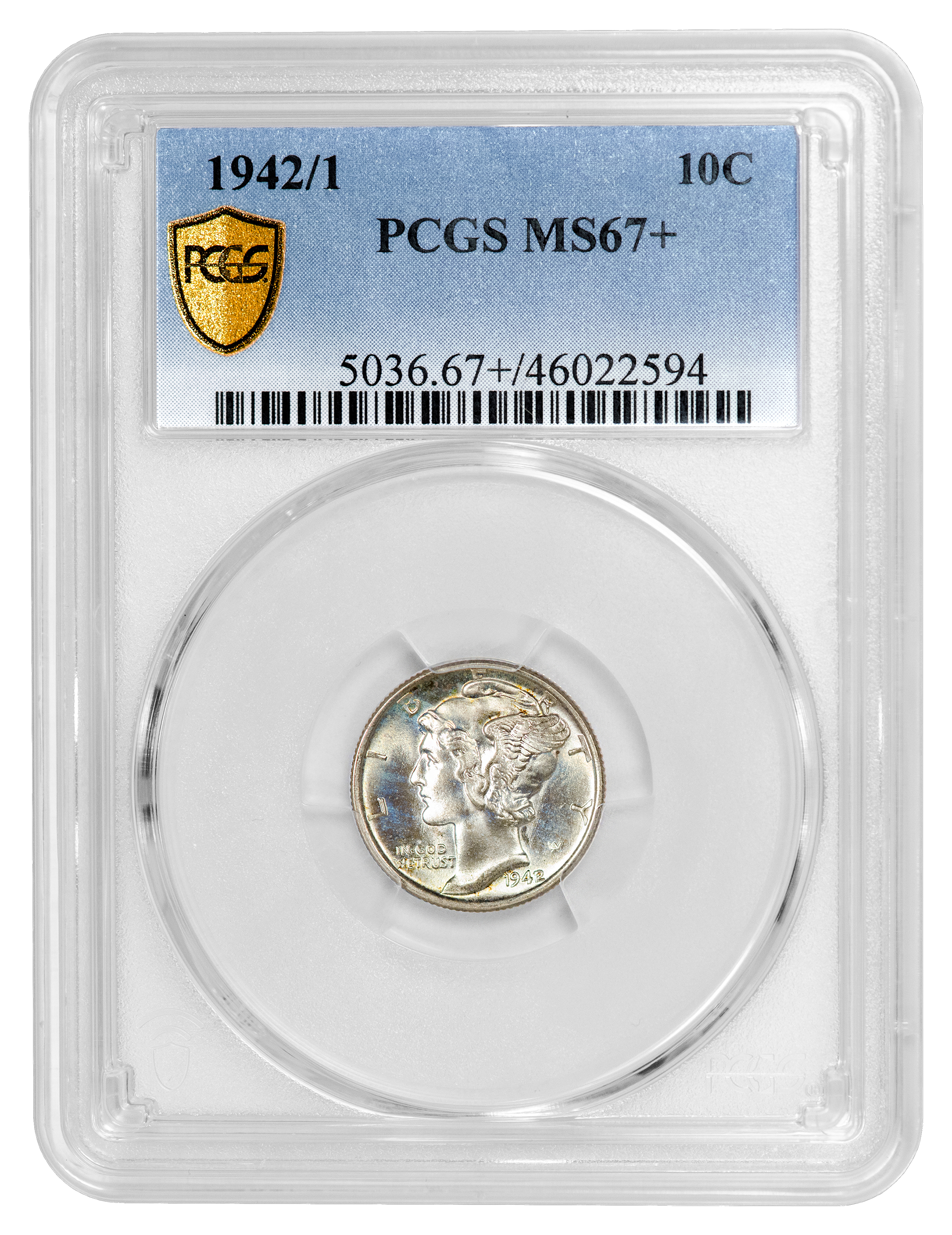 Description:

1942/1 Mercury Dime
(PCGS-MS67+)
[POP 1/0]
List Price:

PRICE ON REQUEST

Click Here to Order
Additional Images: Click to Enlarge

1942/1 MERCURY DIME (PCGS-MS67+) CROSSED DOWN FROM THE POP 1/0 NGC-MS68 SPECIMEN!!
Absolutely Phenomenal 1942/1 Mercury Dime Overdate - one of the greatest numismatic delicacies of the World War II era! PCGS-MS67+: FINEST KNOWN SPECIMEN IN THE WORLD BY 1 - 1 1/2 POINTS!!

The history of the 1942/1 Mercury Dime is fascinating! At a time in the middle of World War II, in the March, 1943 edition of the "Numismatic Scrapbook", Arnold Cohn of Kingston, New York, reported his discovery of a 1942/1 Mercury Dime. The magazine included a photograph of the coin and the hunt was afoot! The fairly new magazine's founder and editor, Lee F. Hewitt (who launched the magazine in January, 1935) submitted Cohn's dime to U.S. Mint Chief Engraver John R. Sinnock for authentication. This was just the start of Hewitt's illustrious career in numismatics that earned him (and R.S. Yeoman of Whitman Publishing) the honor of the first living numismatists elected to the ANA Hall of Fame in 1978.

After initially suggesting the error was created by a 1941 dime being overstruck with a 1942 die, Sinnock thereafter reversed his conclusion correctly stating the actual cause -- a hub-doubling error:

"In September of each year we start engraving the numeral in the new master die for the following year. We have no punches for these numerals since they were sculptured in the first place we follow the individual style of each sculptor. From this master die a working 'hub' is drawn. This is re-touched if necessary, then hardened. This hub is used to fabricate all the working dies for that year. About one thousand dies with new date must be ready by January 1st of each year."

Shortly thereafter, Mint Director Nellie Tayloe Ross confirmed Mint officials' belief that the 1942/1 was created during the period when differently dated dies were being made:

"During that period when utmost vigilance was required to keep the dies segregated by respective years, a die may have been given one blow with a 1941 hub and then, by some accident, finished with a 1942 hub."

High grade specimens confirm the explanations of Sinnock and Ross that the overdate is essentially a doubled obverse die that shows both dates. The entire date shows slight doubling that becomes more pronounced from left to right.

The legendary 1942/1 is one of the most desirable overdates in all of United States numismatics. Because the error was reported so soon after its creation, hobbyists (for which there were many following WWII) began examining all 1942 dimes they encountered, leading to hundreds and hundreds of AU examples known today as well as thousands of coins in sub-AU grades. But, true Mint State coins are scarce (and gems are rare) and while the certified population reports of PCGS and NGC show that both companies have certified many dozens of Uncirculated examples, there is likely much duplication within those two reports. Case in point is this PCGS-MS67+ coin that is also the NGC-MS68 pop 1/0 finest known coin and the buyer will receive from us the NGC-MS68 insert tag from the very old NGC former holder that housed this coin for around a couple decades.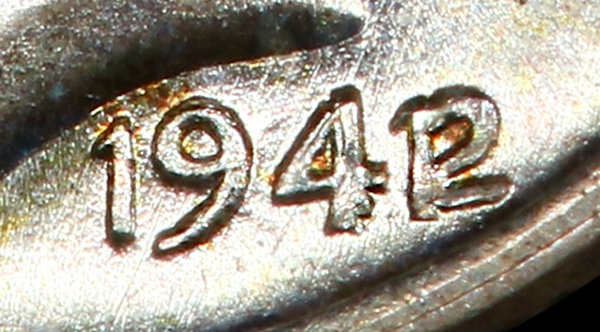 This overdate is simply amazing to look at; a naked-eye variety nearly as obvious as the 1955 Doubled Die cent! And, the reverse of the coin is a marvel as well. Not only are the central horizontal bands on the reverse nearly fully split and rounded, but also the top and bottom bands. The top diagonal is full and the lower diagonal shows the typical slight weakness where it joins the nearby olive leaf. The surfaces are almost entirely frosty with a touch of prooflike ("die burn") being displayed.

We believe NGC got it right nearly 2 decades ago when they graded the coin MS68 (and that was before "gradeflation")! On top of that, this coin is close to full bands. This PCGS specimen has never seen CAC, but we can have it submitted for the buyer if he/she desires. We believe this specimen is simply the finest quality coin for the variety in the numismatic universe both obtainable or imaginable; the Grand Prize for the Registry Set collector or 20th century series enthusiast. From an original mintage of 205,410,000 Mercury Dimes, here is, in our opinion, probably the greatest specimen extant from those coins!!
How do I Contact MonsterCoinMart?
Have a question about ordering a product? Interested in consigning us your coins? Be sure to Contact Us! Our experienced and customer-oriented team will be happy to assist you in whatever way we can!
Check out our store on eBay and some of our customer feedback. We offer even more products here on monstercoinmart.com, and at even more competitive prices, so be sure to check out our "Coins For Sale" and "Featured Items" sections!
Click the link below to review our "Terms and Conditions" page. This page contains a wealth lot of information important if you plan on ordering a product from us! Be sure to give it a look over before making your purchase!