Record-Breaking 1975 proof No S Dime
Quickly Re-Sold For $516,000
Auction purchase by Mitch Spivack, MonsterCoinMart's Justin Spivack,
and Steven Heller bought days later by avid collector
Posted: September 14, 2019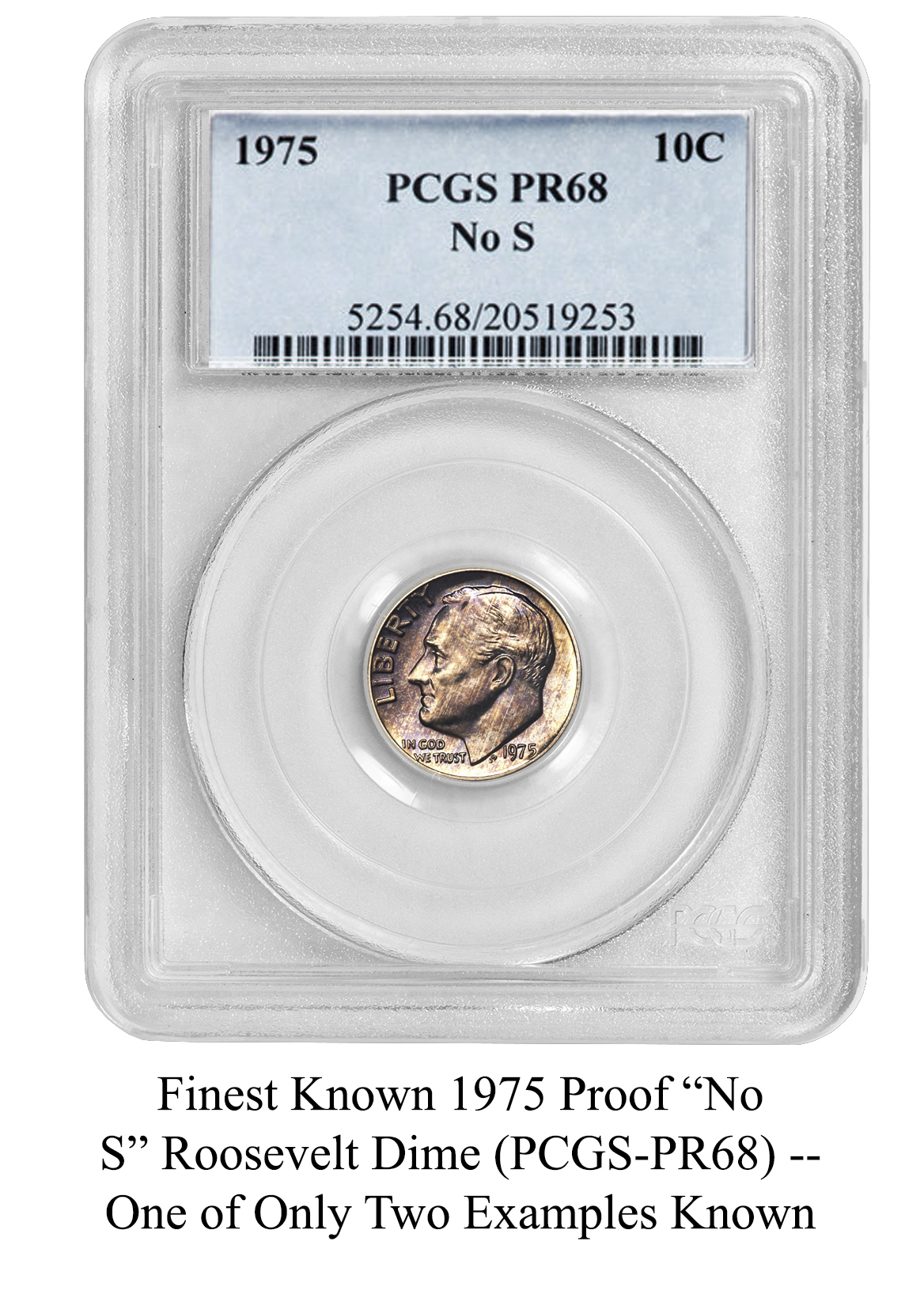 The most expensive United States modern coin ever sold at auction, a 1975 proof No S dime, changed hands twice in less than a week, both times for record prices.

The finer of the two known 1975 proof dimes without the San Francisco "S" mintmark was jointly purchased on September 6, 2019 for $456,000 by modern coin specialist Mitch Spivack along with his son, Justin, owner of MonsterCoinMart (www.MonsterCoinMart.com) in Orange County California, and with collector Steven Heller also as a partner on the deal. They then sold it five days later through agent Nick Cascio for $516,000 to an avid Roosevelt Dime collector who wants to remain anonymous.

Graded PCGS PR68 and being the second rarest United States modern coin (behind the unique 1976 proof No S Eisenhower Dollar), this 1975 proof No S dime is now the highlight of the Halcyon Collection, one of the all-time finest collections of Roosevelt Dimes in the PCGS Set Registry®.


The creation and discovery of this modern rarity
The 1975 proof No S Roosevelt Dime is one of the rarest issues in all of American coinage. In the over 40 years since its discovery, only two examples are known to collectors.

Until 1996, all United States coinage dies were produced at the Philadelphia Mint and were subsequently shipped to the various branch mints. These dies included the mintmark for the respective Mints they were intended for -- in the case of the San Francisco Mint, this was the "S" mintmark . Of the 2,845,450 proof sets produced by the San Francisco Mint in 1975, only two examples have been discovered lacking the "S" mintmark. It can be assumed that a single obverse die without a mintmark (intended for business strike production) was shipped to the San Francisco Mint and was polished like the other proof dies. As only two examples have surfaced after all these years, the San Francisco Mint must have quickly located the error die and destroyed all of the "S"-less examples on-hand -- except for the two examples that escaped the Mint.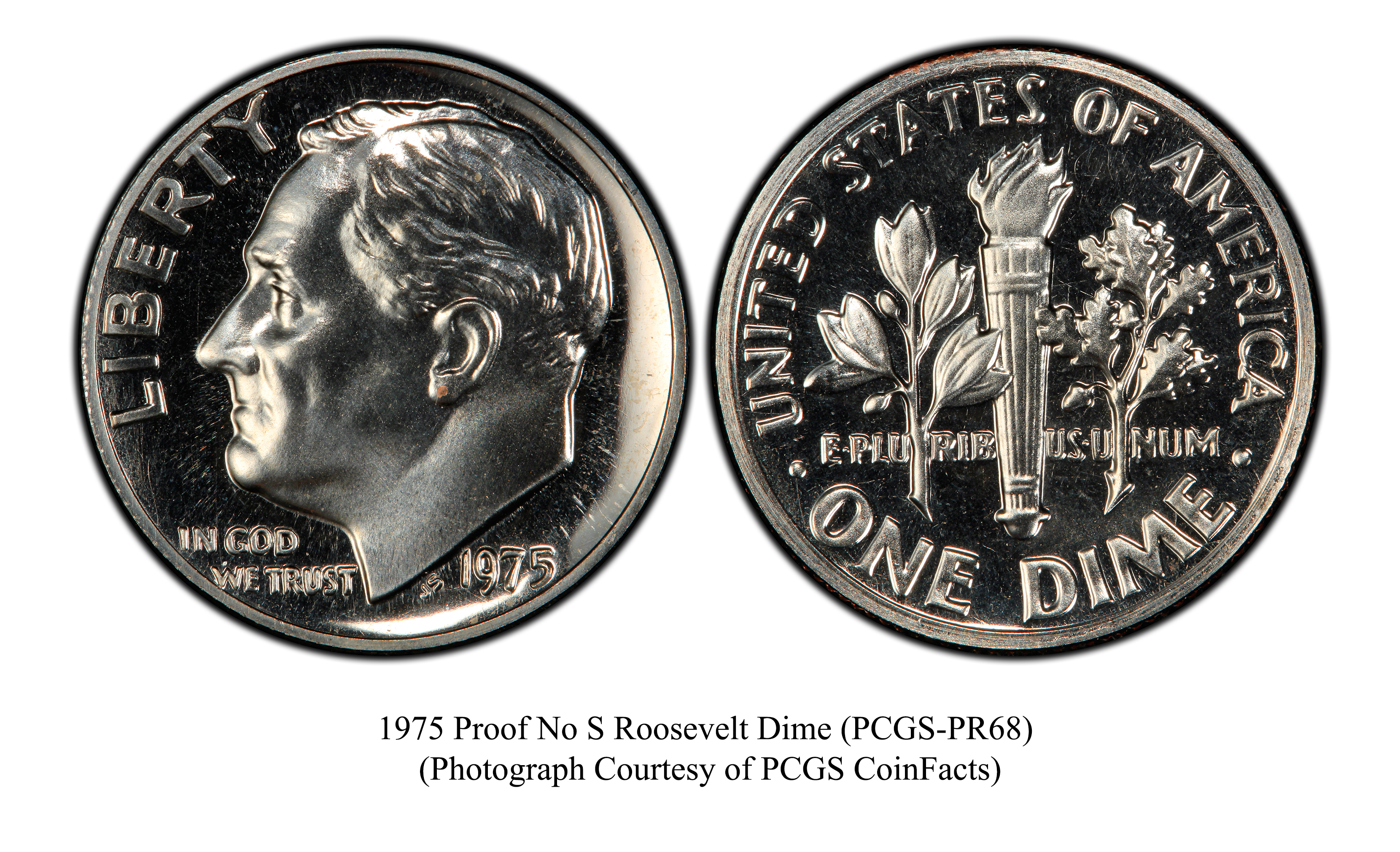 In 1975, these two sets were purchased by a lucky California collector who ordered five sets from the Mint. She noticed that two the Roosevelt Dimes in her sets lacked the "S" Mint Mark and eventually had the two coins certified by ANACS. Both of these proof sets were eventually sold to coin dealer Fred Vollmer, a specialist in No S proof coins. Vollmer eventually sold one of these sets to a collector from Ohio for $18,200, who later had the dime certified as PR66 by PCGS. It is believed that the coin still resides with this collector to this day.

The second set, containing the coin purchased here, was later sold by Vollmer to a private collector for $38,550 in 1980. From there it was passed to a dealer who consigned it to Stack's Bowers in 2011, where it sold for a record $349,600. Up until the sale on September 6th, 2019, this PCGS-PR68 example has remained in the collection of the 2011 winning bidder. The 1975 proof No S Roosevelt Dime is the rarest of all "S"-Less modern coins -- behind only the unique 1976 proof No S Eisenhower Dollar.



A little about the parties involved in the acquisition
and subsequent sale of this modern numismatic treasure
Mitchell Spivack
"On Friday, September 6, 2019, I purchased the 1975 No S Roosie out of the Heritage sale along with Steven Heller and my son Justin as my two partners on the coin", Spivack says. "We paid $456,000.00 for the dime. We then received an offer for the dime the very next day and a few days later consummated a sale of the Dime to the Registry Set owner of the 'Halcyon Collection' through his agent Nick Cascio".

"It was a great honor for me to own the finest known 1975 No S Dime if even for just a few days" says Spivack. "As the owner of the Unique 1976 No S (Silver) Eisenhower Dollar for many, many years now - the most valuable and rare U.S. modern coin in existence - I always dreamed of owning the 1975 No S dime as well. That dream became a reality to me over the past week".

"I also had the great pleasure of working with my true long-time friend, Nick Cascio, in placing the 1975 No S Dime with Nick's special customer who is the perfect devoted Roosevelt Dime collector deserving of the honor of having this dime as the centerpiece of his world class Roosevelt Dime collection" says Spivack. "This deal was very special to me as well as I partnered the purchase of the dime with my son Justin as well as my best friend in the coin hobby today, Steven Heller. And, then, got to place the dime with the customer of my dear friend Nick Cascio. It doesn't get any better than this".

Mitchell Spivack is one of the nation's leading experts in the area of Modern United States coinage (1932-date) having focused his study in that area of numismatics for the past (36) years. Over the past nineteen years, he has assisted collectors in building top/world class sets in almost every series of modern coins.

Yet, Mitchell's numismatic expertise crosses over to classic coins as well, where he has assisted collectors with building world class/"Hall of Fame" sets of United States Philippine Coins, Two Cent pieces, Shield Nickels, Liberty Nickels, Standing Liberty Quarters, Silver Classic Commemoratives, Patterns and Classic rarities. Mitchell also acted as agent for the purchase and subsequent sale of the finest known PCGS graded 1894-S Dime for a record $1,900,000 in 2008.

Mitchell is an avid Registry Set collector as well with about (47) active PCGS registry sets at this time spanning a variety of coin series from 19th Century Liberty Nickel patterns through modern Presidential Dollars. Twenty-five of these (47) sets are currently ranked either #1 or #2. Mitchell has been awarded two "Hall of Fame" honors from PCGS for his 1932-date Mint State Washington Quarter collection, as well as his "Top 100 Modern Coins" collection.

Mitchell had been PCGS' outside Modern coin expert for the Price Guide beginning in 2007 and served as a member of PCGS' Advisory Board and on PCGS' Board of Experts for many years. Mitchell is also currently an expert witness on the valuation of modern coins retained by the US government. Mitchell received his B.A. from Rutgers University in 1980 and his Juris Doctorate from the University of Maryland School of Law in 1983 and is currently an inactive member of the California State Bar.

"I thought long and hard about simply buying the 1975 No S Dime for inclusion in my #1 Hall of Fame 'Top 100 Modern Coins' Registry Set collection at PCGS", Spivack adds. "But, two things led me to be comfortable selling the coin to Nick as agent for this buyer. First, I had no doubt that the buyer (a current customer of MonsterCoinMart) was sincere about holding this PR68 specimen for years, if not decades, to come, as he continues to build the greatest set of Mint State and Proof Roosevelt Dimes ever assembled. He is a much younger gentleman than I am and has many years on his side to continue to collect coins.

Second, the recent death of my dear friend and a huge mentor in my life (known to most collectors by his moniker 'Justhavingfun') hit me hard. He was a very healthy guy when he passed in his 70s.

I would visit JustHavingFun in Bangkok, Thailand at least once or twice a year for 3 week visits beginning in 2009 (and in 2018 spent nearly half the year with him there). He would usually walk 10 to 15 kilometers a day, at high noon, in the Bangkok heat and it would not even phase him. I was good for about 10 to 15 minutes and needed to stop at every 7/11 to buy another water bottle or fresh Pomegranate juice. After one or two walks like that back in 2009, I simply passed on even attempting to walk around Bangkok with him at any time before around 8:00 p.m. JustHavingFun continued to take these long walks at high noon up to the time of his passing.

About eight or so years ago, JustHavingFun decided to begin selling off his phenomenal coin collection. He realized none of his children were interested in coins and he knew it would be better to sell off his huge collection under his direction. At the time of his untimely and unexpected death, we had already sold off about 3/4 of his entire collection, including the greatest set of Standing Liberty Quarters, Shield and Liberty Nickels, Three Centers, Two Centers and even Mint State Roosevelt Dimes ever assembled to that point (not to mention the finest known PCGS 1894-S Dime).

I am in my 60s now, just as JustHavingFun was when he began selling off his coin collection. And, while I am in pretty good health (knock on wood), I realize that the time is fast approaching for me to become a 'net coin seller' as compared to the 'net coin buyer' I have been for many, many decades since I started collecting coins as a 7 year old boy. This 1975 No S Dime was a turning point in my collecting career and one I will not look back on with regret. It is truly time for me also to begin the process of 'passing the baton'. And, it also doesn't hurt that my son, Justin, now owns and operates a retail coin consignment company. I hope to be able to negotiate a 'good deal' for MonsterCoinMart to sell off a decent portion of 'my stuff'".

Mitchell's web site is: www.wondercoins.com
You can contact Mitchell at: mjcapc@aol.com



Justin Spivack
Justin Spivack (age 27) has been involved in the field of numismatics for nearly all his life, learning the trade from his father (Mitchell Spivack) from a young age. Growing up in Southern California, some of Justin's fondest memories were getting to accompany his father to the local coin shows in Long Beach as well as the annual FUN show in Florida, expanding his knowledge of various coin series (primarily modern U.S. coinage) and honing his skills at coin grading.

In 2009, Justin was named "Young Numismatist of the Year" by PCGS for his Registry Set of Presidential Dollar coins. All coins in this set were "homemade", found through screening tens of thousands, if not hundreds of thousands, of Presidential Dollar coins in the afternoons after school. Justin graduated from the University of California, Los Angeles (UCLA) in 2015 with a Bachelor of Science degree in Biochemistry.

In 2016, Justin founded the retail consignment coin company, MonsterCoinMart, which has already sold millions of dollars of consignment coins and has marketed a number of high profile coins and collections including (currently) the #2 All-Time Finest 144-Piece Classic Silver Commemorative Collection ("The Subway Tokens Collection") and some of the highest graded United States Philippine coins in existence -- owned by the greatest U.S. Philippine collector of all time, "JustHavingFun". In the coming days, MonsterCoinMart will also be listing for sale the unique 1907 Proof U.S. Philippine Peso (one of the rarest United States coins in existence). Justin, like his father, is also currently an expert witness on the valuation of modern coins retained by the U.S. government.

"I have always had a passion for collecting and for building something from nothing", Justin said. "When we were approached by our good friend Nick Cascio on behalf of the owner of the 'Halcyon Collection' (a very good customer of mine), I knew that he was the perfect person to own this crown jewel of modern numismatic history. His passion for Roosevelt Dime collecting is truly second to none and as far as I'm concerned, the finest known '75 No S could not be going to a better home".

If you are interested in purchasing coins from MonsterCoinMart, or would like to consign coins to MonsterCoinMart, please refer to the MonsterCoinMart Contact Us page. You can also see the current inventory in MonsterCoinMart's eBay store by clicking here! Please note that the items listed on both the MonsterCoinMart website (www.monstercoinmart.com) and eBay store represent only a fraction of what MonsterCoinMart currently has in stock, so do not hesitate to reach out if you are interested in a specific product!



Nick Cascio
Nick Cascio has been collecting Roosevelt Dimes for over 30 years. He has built several Roosevelt Dime collections that have ranked #1 in the registry in 2003 and 2014 – 2017. He has assisted other collectors in building several #1 Roosevelt Dime collections over the years, and his expertise & encyclopedic knowledge of Roosevelt Dimes is extremely well-known throughout the Roosie community. One of his prized accomplishments was slabbing the first (and still to this date, only) silver Roosevelt Dime graded MS68+FB by PCGS. But his greatest and proudest moment was recently acquiring the rarest of all Roosevelt Dimes - the highly sought-after PCGS graded PR68 1975 No S dime which is the finest of only two known examples.

Nick is the agent for a prominent East Coast collector and this dime will reside in the #1 ranked "Halcyon Collection", now the only complete Roosevelt Dime set in the world.

"It was a proud moment for me to be able to assist this astute collector and add to their already world-class collection", Cascio says. "Across Mint State Silvers & Clads, Proofs, and Varieties this set contains a staggering 232 top pop coins of which 37 are 1/0 examples. With the addition of the '75 No S I have little doubt this set will become the first Roosevelt Dime collection awarded Hall of Fame status by PCGS."



Steven Heller
Steve Heller, a Roosevelt Dime collector since childhood, was among a handful of collectors chosen in the inaugural year (2002) for the PCGS Set Registry "Hall of Fame" award. Since the inception of the Registry, going back to the 1999 awards (which was in paperback form before the Registry was even on the computer), Steve, Nick, the buyer here and Mitch have all been #1 in the Roosie Dime Registry at one time or another (Mitch, first to achieve that in 1999).

Heller said, "The Roosie community is a very compatible group of dedicated collectors who have shared a long history of working together to help each other towards achieving the best sets possible. I am happy once again that I was able to assist a truly dedicated Roosie collector to acquire the coin of his dreams for what should soon be the first Hall of Fame Registry collection for Roosevelt Dimes".


What does this mean for the futue collectability
of these modern numismatic rarities?
With the sale of the finest of the existing two 1975 proof No S Roosevelt Dimes, what does this mean for collectors wanting to build a complete collection of Roosevelt Dimes or a World-Class Set of the Top 100 Modern U.S. Coins? As far as we know, the passionate collector who assembled the "Halcyon Collection" has shown no interest in parting with the coin at any price. So it would appear that the PR68 is in very strong hands for the foreseeable future. That leaves just one other 1975 proof No S dime remaining in the wild (the PCGS-PR66), and whether that ever gets released from its current owner remains to be seen.

So the chances of building a complete Roosevelt Dime collection in this moment, aside from the Hall of Fame-worthy "Halcyon Collection", appear to be slim. Likewise, assembling a World-Class set of the Top 100 Modern U.S. Coins appears extremely challenging without one of these in the collection. The only coin that could make a stronger Top 100 set than a 1975 proof No S Roosevelt Dime is the unique 1976 proof No S Eisenhower Dollar, but whether that leaves the strong hands of its current owner also remains to be seen. Either way, witnessing coins like this come up for public auction makes this a very exciting time to be a modern United States coin collector!


How do I Contact MonsterCoinMart?
Have a question about ordering a product? Interested in consigning us your coins? Be sure to Contact Us! Our experienced and customer-oriented team will be happy to assist you in whatever way we can!
Check out our store on eBay and some of our customer feedback. We offer even more products here on monstercoinmart.com, and at even more competitive prices, so be sure to check out our "Coins For Sale" and "Featured Items" sections!
Click the link below to review our "Terms and Conditions" page. This page contains a wealth lot of information important if you plan on ordering a product from us! Be sure to give it a look over before making your purchase!