Back to: $20 Saint-Gaudens Gold Double Eagles
1926-D $20 Gold Saint-
Gaudens Double Eagle
(PCGS-MS64)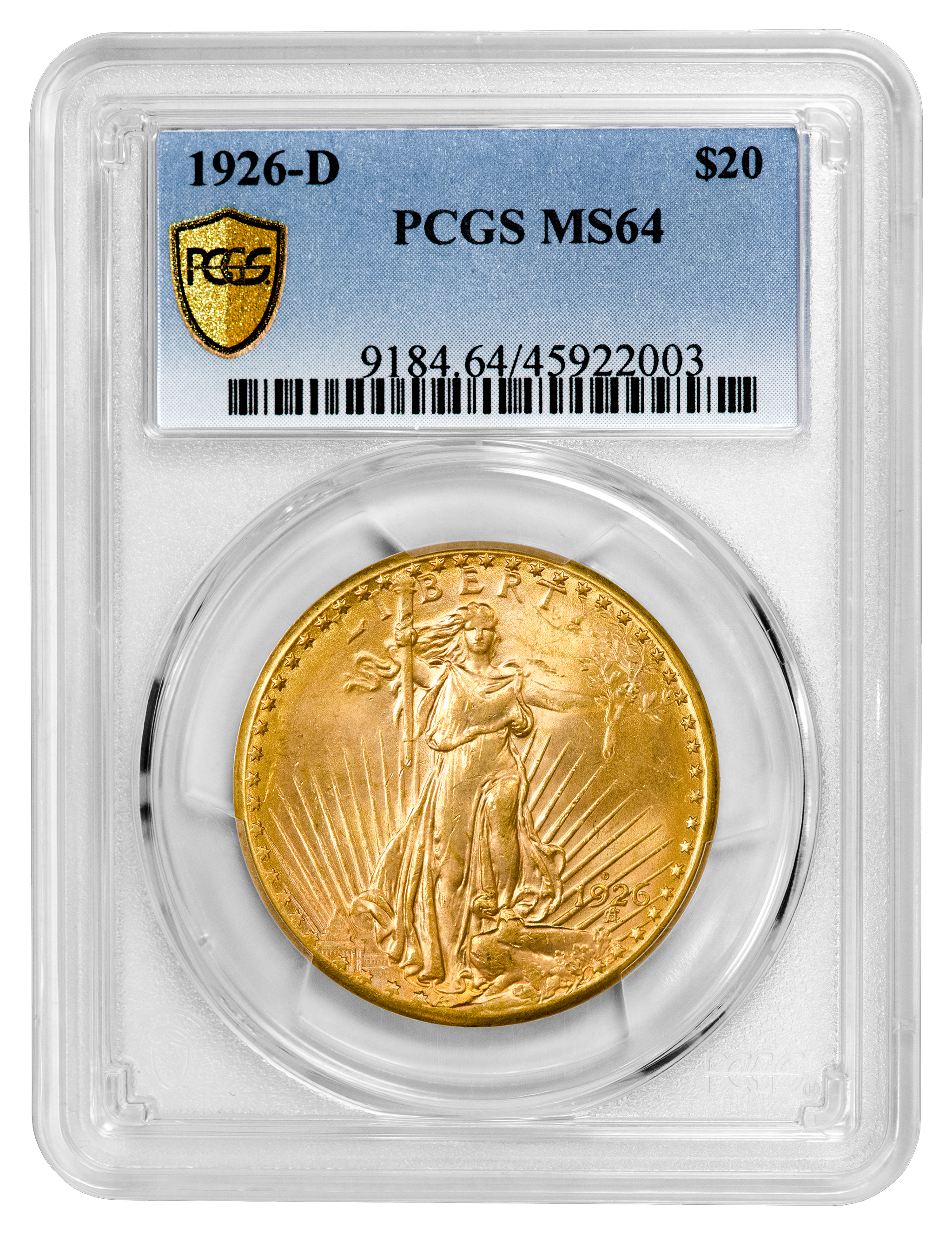 Description:

1926-D $20 Gold Saint-
Gaudens Double Eagle
(PCGS-MS64)
List Price:

PRICE ON REQUEST

Click Here to Order
Additional Images: Click to Enlarge

1926-D $20 SAINT-GAUDENS (PCGS-MS64): HEAVILY MELTED ISSUE RARELY SEEN ANY FINER!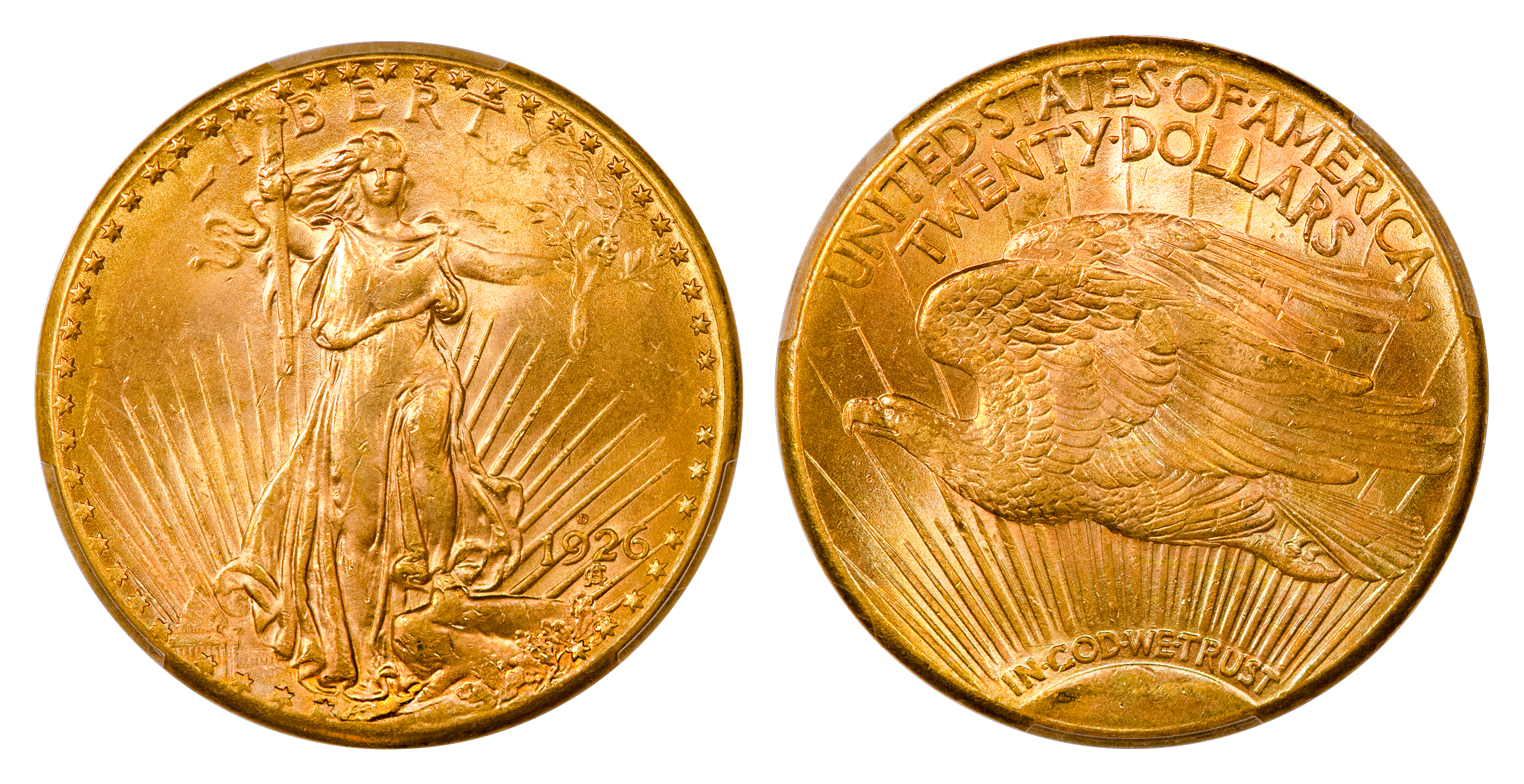 From an original mintage of 481,000 pieces, the 1926-D Saint-Gaudens Double Eagle is an elusive and underrated issue in today's market. Recent research by Roger W. Burdette indicates at least 475,000 of those coins (98.75%!) were never released into circulation. Instead, like many other mintmarked issues of the 1920s, the 1926-D was primarily used to back U.S. currency and were held in government storage until the Gold Recall of 1933 took effect wherein they were subsequently melted, resulting in the issue becoming almost impossible to find in the United States by the 1940's.

In the 1940s, the 1926-D was believed to be the single-rarest issue of the Saint-Gaudens series! Even in 1957, a Stack's catalog declared the 1926-D, "The rarest coin from the Denver Mint, and also in our opinion the rarest double eagle." Both claims have been invalidated by history since then as the 1926-D Double Eagles have been found in small quantities overseas and repatriated from foreign holdings over the years beginning in the 1950s, whereas 1927-D Double Eagles have not.

No hoards of 1926-D dated coins were ever discovered, but enough coins surfaced to alter the rarity ranking of the 1926-D from "impossible" to "difficult" to locate. However, due to challenging storage and transportation issues, the coins found in European holdings were almost always in lower Mint State grades of MS60-MS62. Examples in MS64 condition like this coin are still seldom encountered, and finer coins are prime condition rarities.

In his Guide Book of Double Eagle Gold Coins, Q. David Bowers calls the 1926-D a "formidable rarity." He goes on to say "Today, the 1926-D double remains very elusive, though hardly in the 'impossible' category." Roger W. Burdette estimates the surviving population at about 600 pieces in all grades.

David Akers commented about the 1926-D as follows:

"The 1926-D is one of the rarest and most underrated issues in the series… Until the 1950s, in fact, the 1926-D was thought to be rarer than the legendary 1927-D. While a few pieces have turned up in foreign banks since then, there has never been a find that even approaches the status of a hoard in terms of size or significance. When offered in today's market, which is not often, the 1926-D almost always grades somewhere in the MS-60 to MS-63 range. A full MS-64 is a very rare coin, while Gems are encountered only once in a very long while. In fact, there are only five-to-seven examples surviving that grade MS-65 or finer, and none of these pieces are Superb Gems."

He also commented:

"Prior to the discovery of the small hoards in Europe, the 1926-D was considered to be one of the three greatest rarities in the series, second only to the 1924-S and slightly more rare than the 1926-S. It was also thought to be more rare than the 1920-S, 1921, and 1927-D, the three most valuable regular issues of the series today. The discovery of the hoards in Europe changed all that in terms of population rarity but definitely not condition rarity. In gem and superb uncirculated condition the 1926-D is still considered one of the top five rarities in the Saint-Gaudens double eagle series today."

As mentioned, like many other mintmarked issues of the 1920s, the 1926-D was primarily used to back U.S. currency, and most of the mintage was held in reserve in Treasury vaults or domestic banks. After the Gold Recall of 1933, the great majority of the mintage was melted and stored as ingots at Fort Knox. Only a small number of specimens were released into circulation domestically, and probably less than 50 coins are known today in circulated grades. A few bags were probably used in foreign trade, and these coins remained in foreign banks during the great Recall. It is believed that almost all specimens known today in lower Uncirculated grades, perhaps around 200 examples, are from these European holdings. Probably, a small quantity of Gem specimens were purchased directly from the Mint by serious collectors to contribute to the population of a half dozen or so high grade Gem coins known today.

In one of earliest auction appearances (1946) of a 1926-D Saint, the coin realized around $1,300. Then, about three years later, the coin fetched a whopping $2,500 at auction. By this time, the 1926-D Saint was considered by many to be the rarest dated Saint-Gaudens double eagle in the series. After some specimens were found in the early 1950s from the European sources, the prices softened and scholars now peg the 1926-D date in the series as only a "top 10 rarity" out of the 54-coin series.

That said, the 1926-D remains a key issue today and is about as rare as the 1925-S except the 1926-D is mostly found in Uncirculated grades of MS60-MS63, while the 1925-S is usually found circulated. But, in grades higher than MS63, the 1926-D Saint is rare today with just a few dozen specimens known. The Phillip Morse Collection contained only one 1926-D specimen, that being an exceedingly rare PCGS MS66 example sold at Heritage back in 11/2005 for $345,000.

The premium quality MS64 example presented here displays dazzling luster that radiates from satiny yellow-gold surfaces. We believe the coin is very close to near-Gem quality where the price point increases by about $200,000.00 for that "next point". Feel free to contact us with any questions you may have about this coin.
How do I Contact MonsterCoinMart?
Have a question about ordering a product? Interested in consigning us your coins? Be sure to Contact Us! Our experienced and customer-oriented team will be happy to assist you in whatever way we can!
Check out our store on eBay and some of our customer feedback. We offer even more products here on monstercoinmart.com, and at even more competitive prices, so be sure to check out our "Coins For Sale" and "Featured Items" sections!
Click the link below to review our "Terms and Conditions" page. This page contains a wealth lot of information important if you plan on ordering a product from us! Be sure to give it a look over before making your purchase!